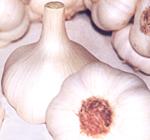 The garlic is a very old crop which is cultivated for its
bulb
, formed in the base of the leaves. It is highly appreciated in cooking for its pungent and characteristic taste, mainly used in the Mediterranean cooking. It has multiple medicinal properties, thanks to the sulphured substances contained in it.
Garlic is a very old crop that has been consumed since VI B.C. The plant belongs to the family of Liliaceous, and its scientific name is Allium sativum. It is cultivated for its bulb, formed in the base of the leaves, that may weigh up to 200g. This bulb or head is made up of small segments (cloves), in variable number from 2 to 10, wrapped in covers that protect them. The colour of these covers ranges from white to pink, being a characteristic to distinguish between two varietal types of garlic.
Although in the antiquity it was highly appreciated for its medicinal properties, at present time it is mainly used as seasoning. It is used in multiple dishes such as 'ajada gallega', 'alioli' sauce, 'ajo blanco malagueño', Basque 'zurrkutuna', etc. They are also harvested when green to eat them as tender garlic. This garlic is sown at the same time as the others, but it is harvested at the beginning of the bulb formation. These plants are characterised by their strong aroma. They are chiefly appreciated in the South of Europe for its pungent taste. We obtain many by-products from garlic, like garlic oil, from the distillation of chopped garlic, and dehydrated garlic.
Garlic hardly has nutritious value. Although it supplies vitamins like C, B1 and B3, and minerals like potassium, calcium, phosphorus, iron and magnesium, its value lies in different sulphured substances, among which the main one is allicin. All these substances bring along some benefits for the organism, since they act at a stomach and intestine level, removing injurious bacteria, and in the digestive apparatus, since garlic is disinfectant and expectorant. It is also beneficial for blood circulation, reducing the pressure.