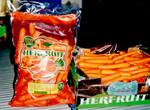 Carrots are presented in different packages, such as plastic bags, wooden or cardboard boxes and trays of different materials and weights. Among the presentations for fresh carrots we find the pre-cut products, which can be grated, peeled, sliced... Moreover, carrots are also intended for juice, for preserves and for baby purees.

The carrots with leaves are usually sold in bunches, and packaged in wooden or cardboard boxes, in one or half kilo bunches, sometimes prepackaged with plastic film, and arranged in one or several layers, allowing a suitable air ventilation.

The prepackaging of carrots without leaves is made in plastic bags of different sizes (1/2, 1, 2, 5 or 10kg), expanded polyethylene trays, polyvinyl chloride or propylene of 0.5 to 1kg of capacity.

The pocketed carrots are put in cardboard or wooden boxes of 10 to 12kg. The consumer usually prefers half, one and five kilos bags. Carrots are also packaged with or without leaves in trays of different materials.

Besides, nowadays there is a wide range of presentations for fresh carrots, such as the pre-cut range, which is a process that extends the life of the product, keeping it fresh and without losing its organoleptic qualities. Thus, there are bunched carrots wrapped in polypropylene and all types of presentations in plastic bags: peeled baby carrots, even or wavy slices, carrot sticks, grated, etc.

Apart from the fresh consumption, carrot also have other commercial applications, like preserved, baby food, juice or in the chemist's, in crystallized carotene form.